PH 1000 low-calorie tablets
Regular price
$19.00 SGD
Sale price
$19.00 SGD
Unit price
per
Sale
Sold out
The low-calorie electrolyte tablets come in different strengths to match how YOU sweat. PH 1000 is a strong electrolyte drink typically used by athletes with moderate to high sweat/sodium losses and those exercising in hotter/humid conditions.
Enhances the absorption of water during physical exercise
Typically used by athletes with a moderate to high sweat/sodium losses and those exercising in hot or humid conditions
Hypotonic formula for faster absorption
Contains 1,000mg of sodium per litre (34oz), when mixed as directed
Independently tested for a wide range of prohibited substances on the World Anti-Doping Agency list.
Mild citrus flavour
10 low-calorie effervescent tablets per tube
Gluten and dairy free | Not genetically engineered | Vegan friendly
Directions
Dissolve 1 tablet per 500ml of water and drink to thirst when you're sweating.
Store in a cool, dry place.
Do not exceed the recommended daily dose.
This product is a food supplement. Do not use as a substitute for a varied diet.
Store out of the reach of young children.
Nutritional Information
Electrolyte content (per litre, when mixed as directed)
Sodium: 1,000mg
Potassium: 250mg
Calcium: 48mg
Magnesium: 24mg
Energy: 16 Kcal / 67 Kj per tablet (3.2 Kcal / 14 Kj per 100ml)
Protein: Less than 0.1g
Fats: Less than 0.1g
Carbohydrates: 2.2g per tablet (0.4g per 100ml)
(after dilution of 1 tablet per 500ml of water)

Ingredients 

Acid Citric Acid, Glucose, Sodium Hydrogen Carbonate, Potassium Hydrogen Carbonate, Maltodextrin, Flavourings, Magnesium Carbonate, Calcium Carbonate, Sweetener Sucralose, Bulking Agent Sorbitol.

Share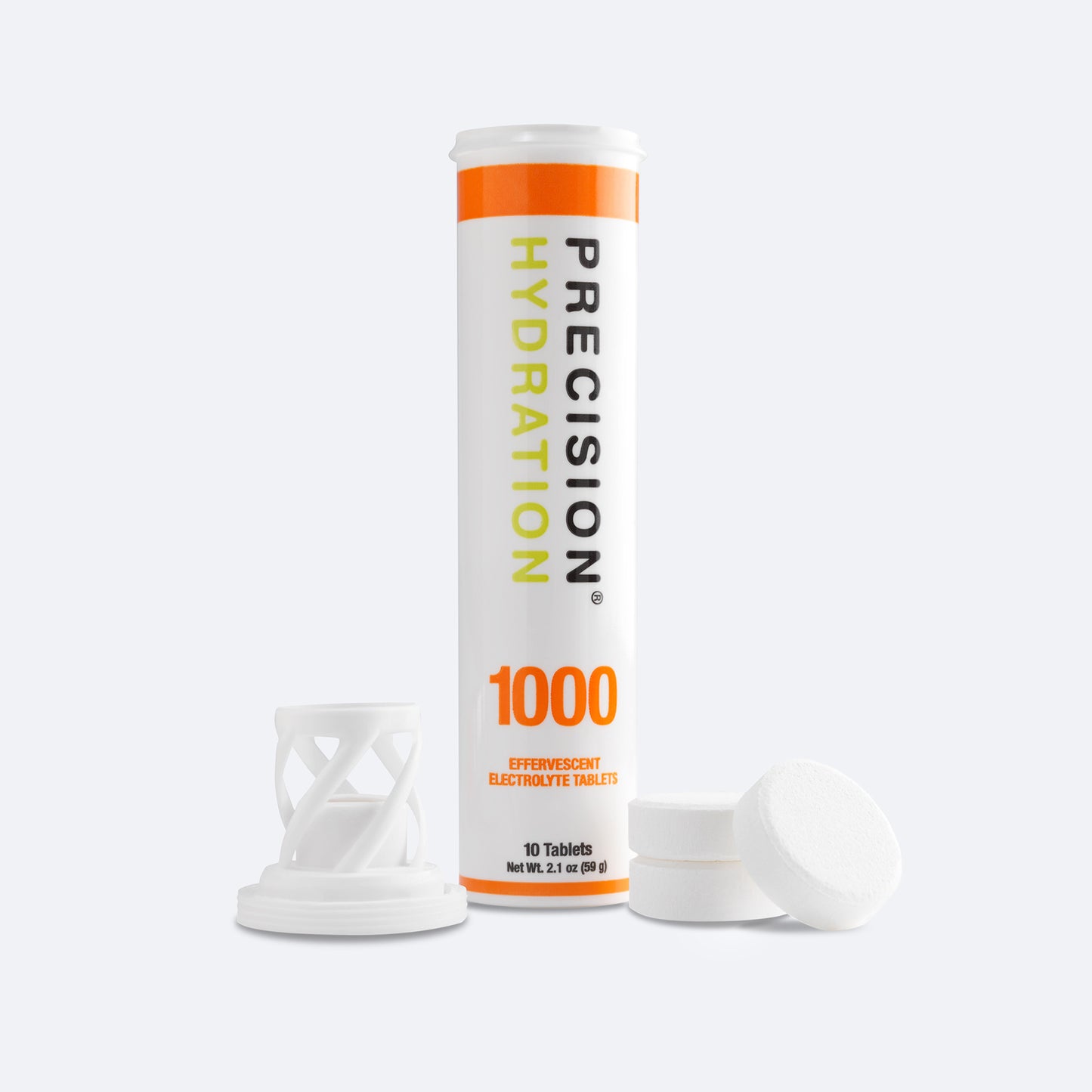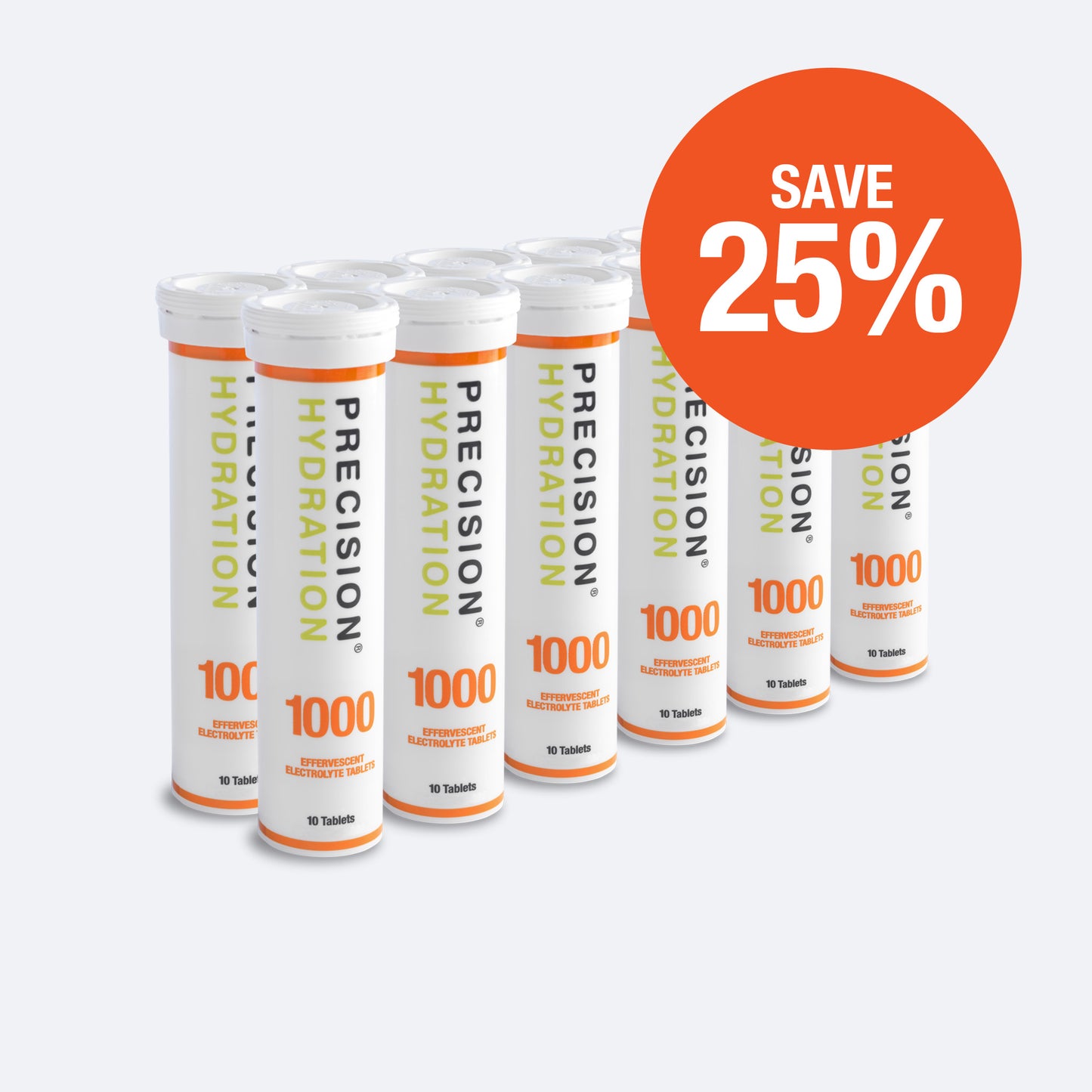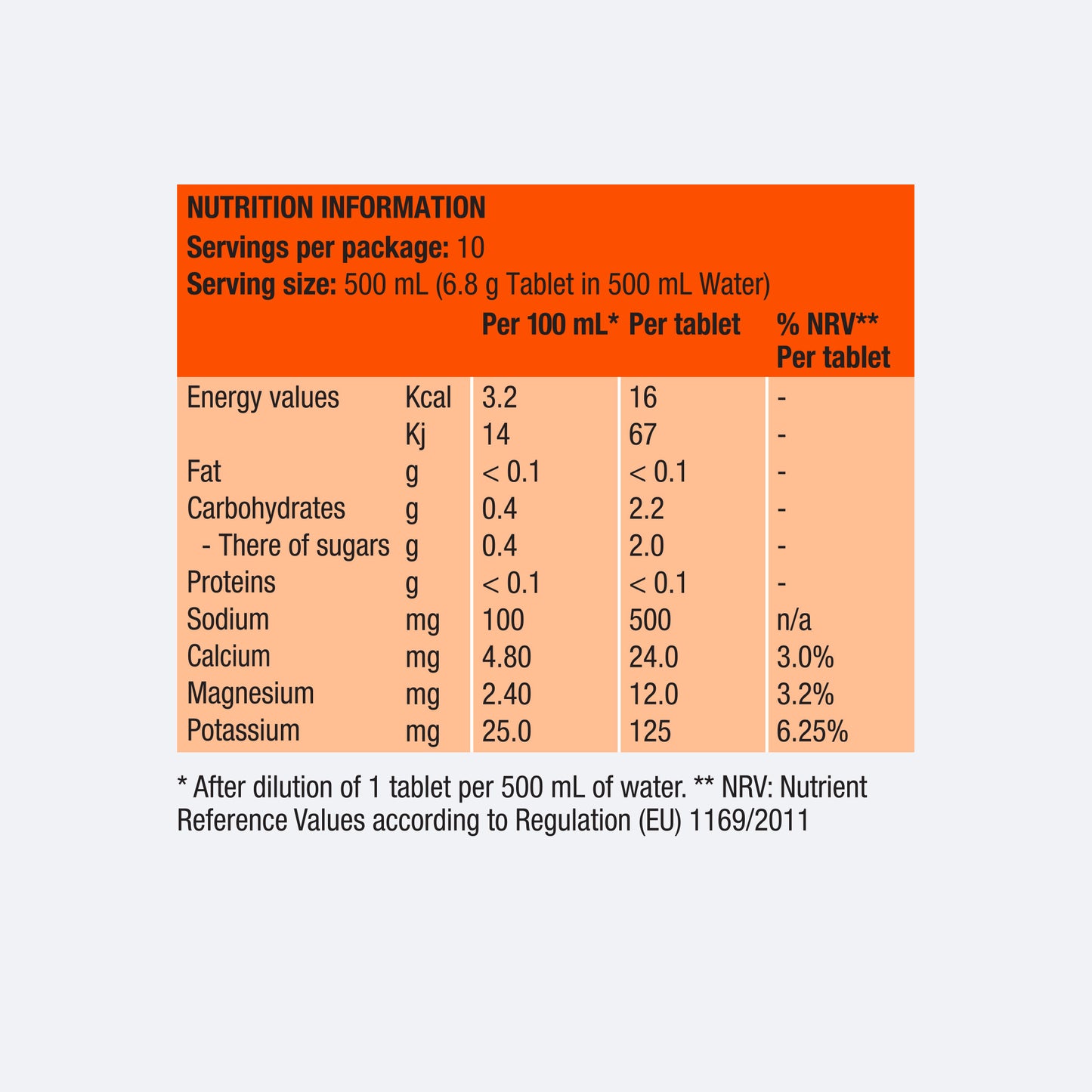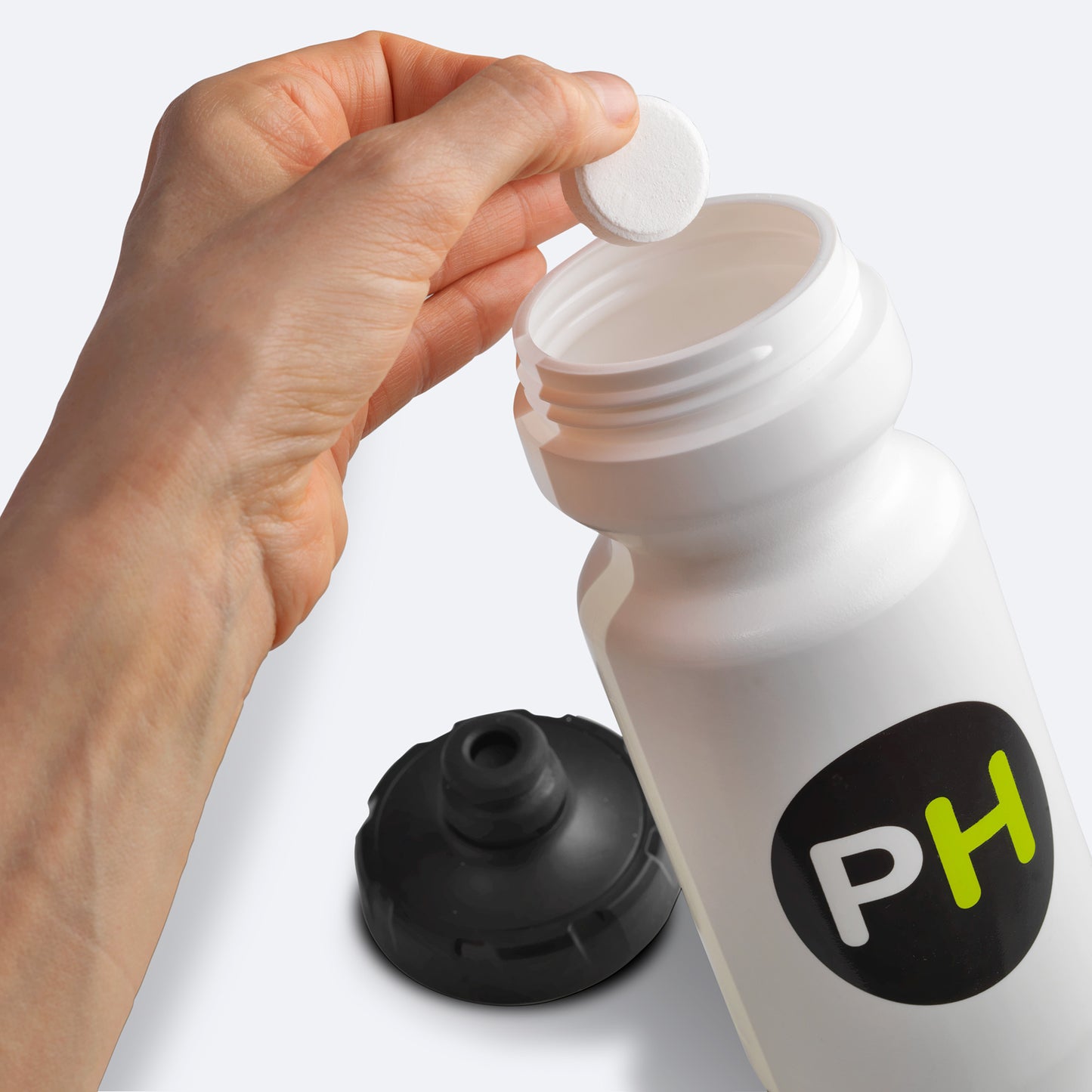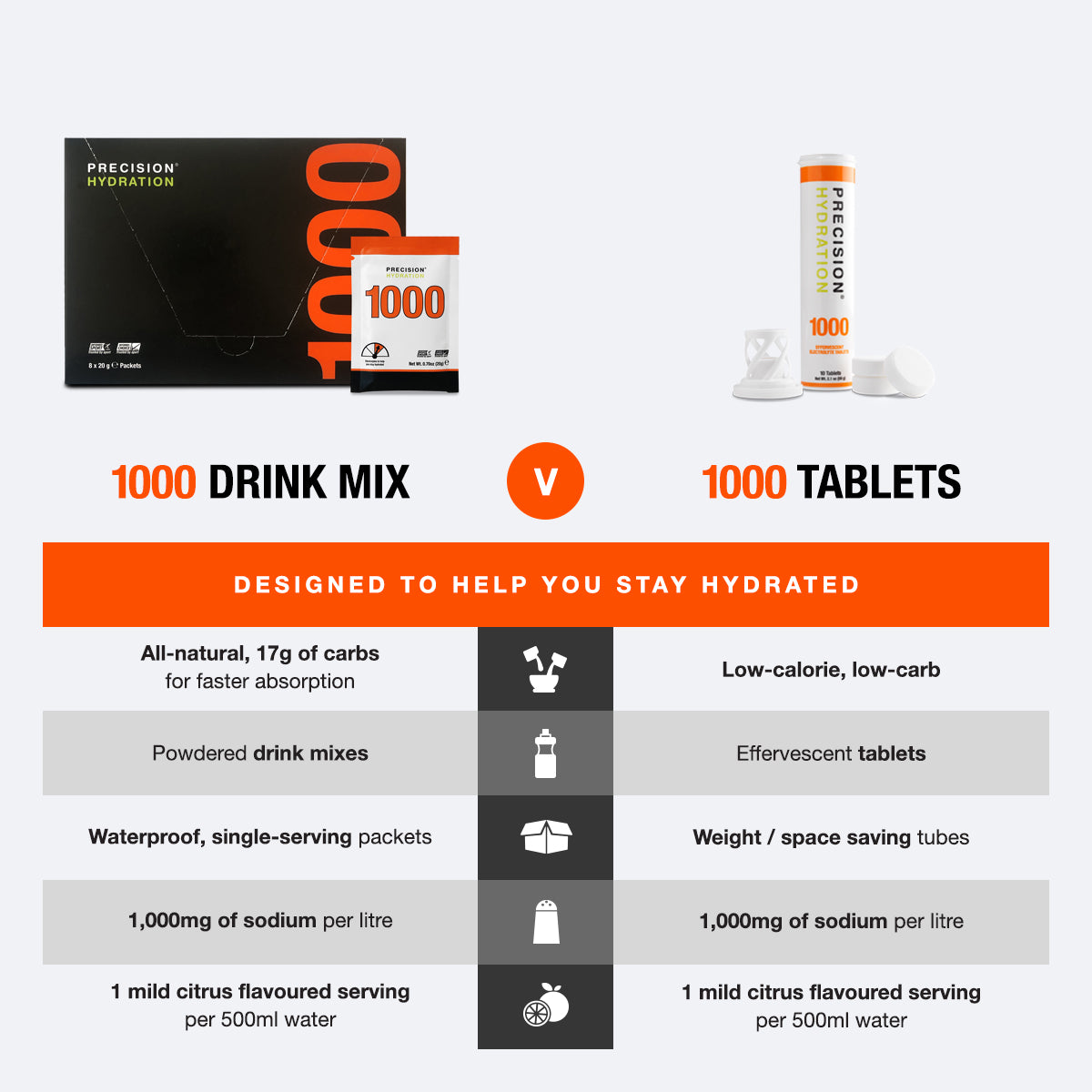 Race Prep
Getting the to start line in optimal condition requires a structured training plan. Get Coached to optimise, track and enjoy your training today.
Start Training